---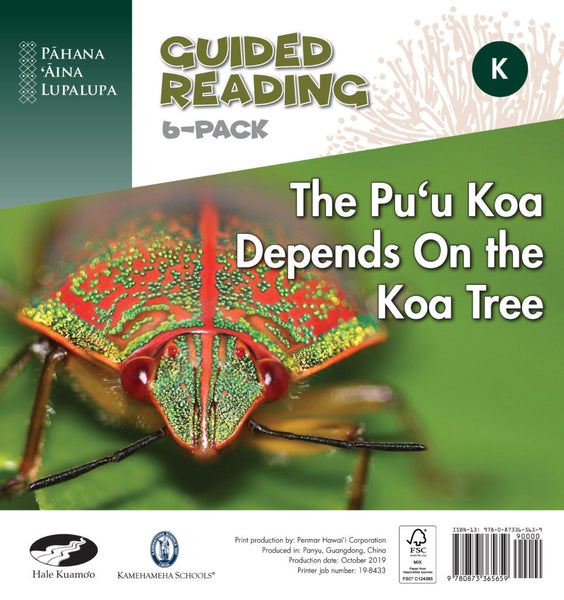 The Pu'u Koa Depends On the Koa Tree (K) – Guided Reading 6-Pack (PAL)
978-0-87336-565-9
Regular price $20.00
Did you know that the pu'u koa is found only in the Hawaiian Islands and nowhere else in the world? Discover more cool facts about this endemic insect while learning how it lives and grows in the forests of Hawai'i.
This set consists of six copies of a single leveled reader for use in guided reading/group instruction.
Target Grade Level: 2—but readers of all ages may enjoy and learn something new!
Guided Reading Level: K
The Pāhana 'Āina Lupalupa (PAL) series of Hawaiian culture-based science readers takes keiki on a fascinating journey into the diverse environments that make Hawai'i the special place that it is. PAL integrates Hawaiian language, culture, and place-based content with literacy and science concepts that meet national standards. Developed in 'ōlelo Hawai'i and translated into English, this exciting series was created through partnerships among a group of Hawai'i educators, literacy specialists, and Hawaiian-language resource developers in consultation with scientists and cultural practitioners.
Copublished with Hale Kuamo'o.
Softcover. 7.75 x 8.25". 28 pp.
*Hawaiian edition also available.