---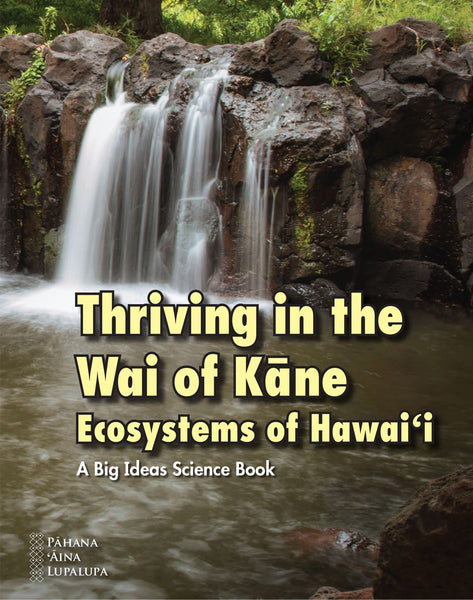 Thriving in the Wai of Kāne: Ecosystems of Hawai'i – A Big Ideas Science Book (PAL)
978-0-87336-503-1
Regular price $8.00
"Where is the water of Kāne?" To answer this question from a traditional Hawaiian chant, you and your young readers will journey through water-laden clouds, fall to the ground, seep through the earth, evaporate in the warm sun, and then … repeat! You'll visit the Ko'olau and Kona sides of the islands to learn how water helps to create diverse ecosystems. You'll read about the threats of human impact on Hawai'i's fragile ecosystems and their unique organisms. And you'll see how aloha 'āina (love for the land) is changing things for the better.
Target Grade Level: 3—but readers of all ages may enjoy and learn something new!
While versatile enough to be a stand-alone resource, this Big Ideas Science Book is part of the ecosystem-themed set of Pāhana 'Āina Lupalupa (PAL), a series of Hawaiian culture-based science readers. PAL integrates Hawaiian language, culture, and place-based content with literacy and science concepts that meet national standards. Developed in 'ōlelo Hawai'i and translated into English, this exciting series was created through partnerships among a group of Hawai'i educators, literacy specialists, and Hawaiian-language resource developers in consultation with scientists and cultural practitioners.
Copublished with Hale Kuamo'o.
Softcover. 8.5 x 11". 36 pp.
*Hawaiian edition also available.