---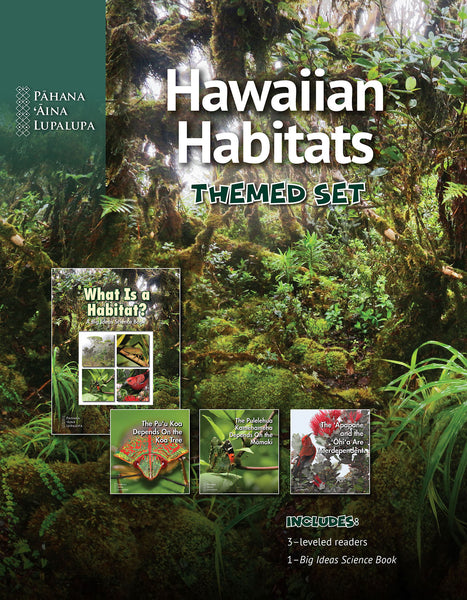 Kaianoho / Hawaiian Habitats Themed Set (PAL)
978-0-87336-422-5
Regular price $20.00
Put on your hiking shoes and your thinking caps for a trek through the Hawaiian rainforest! Young readers will cover a lot of ground, learning about Hawaiian habitats and the dependent and interdependent relationships of the unique organisms that live there.
The habitat-themed set of three leveled readers and a Big Ideas Science Book is the third in a series of Hawaiian culture-based science readers called Pāhana 'Āina Lupalupa (PAL). PAL integrates Hawaiian language, culture, and place-based content with literacy and science concepts that meet national standards. Developed in 'ōlelo Hawai'i and translated into English, this exciting series was created through partnerships among a group of Hawai'i educators, literacy specialists, and Hawaiian-language resource developers in consultation with scientists and cultural practitioners.
Target Grade Level: 2—but readers of all ages may enjoy and learn something new!
Guided Reading Levels: K–M
(K) The Pu'u Koa Depends On the Koa Tree
(L) The Pulelehua Kamehameha Depends On the Māmaki
(M) The 'Apapane and the 'Ōhi'a Are Interdependent
What Is a Habitat?
Copublished with Hale Kuamo'o.
*Hawaiian edition also available.