---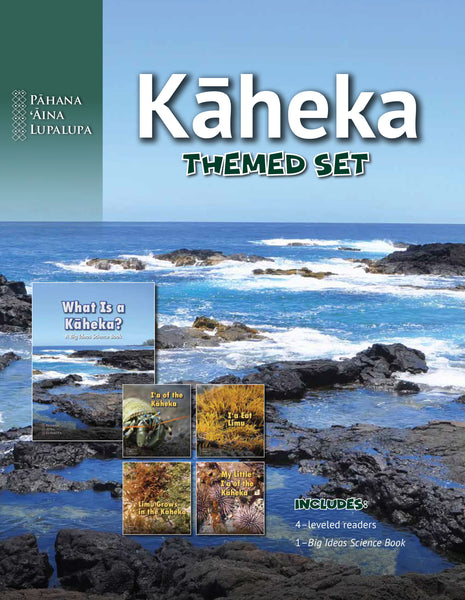 Kāheka / Tide Pools Themed Set (PAL)
978-0-87336-418-8
Regular price $24.00
Splash into the fascinating world of Hawai'i's kāheka (tide pools)! Beginning readers will get to know the kāheka and discover how its interesting residents—like the pipipi with its odd-looking alelo (tongue), the loli with its 'awe'awe (tentacles), and the unauna with its sharp niho (claw)—use their bodies to eat a primary food of the kāheka habitat, limu.
The kāheka-themed set of four leveled readers and a Big Ideas Science Book is the first in a series of Hawaiian culture-based science readers called Pāhana 'Āina Lupalupa (PAL). PAL integrates Hawaiian language, culture, and place-based content with literacy and science concepts that meet national standards. Developed in 'ōlelo Hawai'i and translated into English, this exciting series was created through partnerships among a group of Hawai'i educators, literacy specialists, and Hawaiian-language resource developers in consultation with scientists and cultural practitioners.
Target Grade Level: Kindergarten—but readers of all ages may enjoy and learn something new!
Guided Reading Levels: A–D
(A) I'a of the Kāheka
(B) I'a Eat Limu
(C) Limu Grows in the Kāheka
(D) My Little I'a of the Kāheka
What Is a Kāheka?
Copublished with Hale Kuamo'o.
*Hawaiian edition also available.