---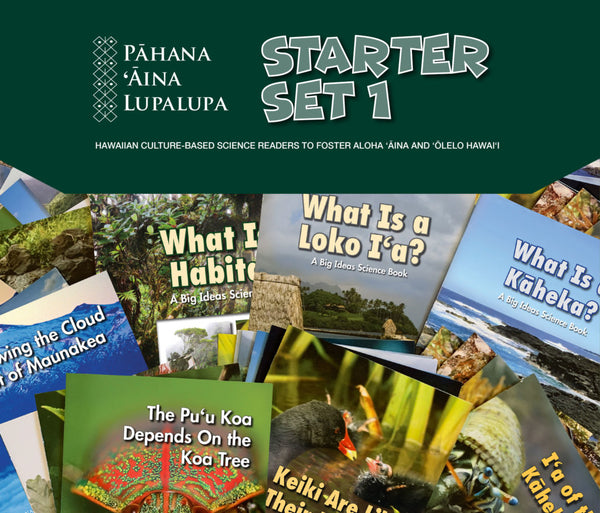 Pāhana 'Āina Lupalupa Starter Set 1: Life Science (revised edition)
978-0-87336-461-4
Regular price $80.00
EXPLORE Hawai'i's environments and their unique organisms. LEARN Hawaiian language and culture. DISCOVER ways to care for the 'āina and its inhabitants.
The Pāhana 'Āina Lupalupa (PAL) series of Hawaiian culture-based science readers takes keiki on a fascinating journey into the diverse environments that make Hawai'i the special place that it is. From high mountain forests shrouded in clouds to coastal waters teeming with life, your budding reader will discover the amazing diversity of Hawai'i's ecosystems and their unique inhabitants. Meet the koa bug, pao'o fish, wiliwili tree, and other Hawaiian endemic species found nowhere else in the world. Colorful photographs and illustrations along with informative text will delight and intrigue your young explorer, and Hawaiian language, traditions, and settings will help your keiki build a firm foundation in the rich, deep 'āina of Hawai'i nei.
Kāheka / Tide Pools (Guided Reading Levels A–D; Target Grade Level: K)
Get to know the kāheka and discover how its interesting residents use their bodies to eat a primary food of the kāheka habitat, limu.
Loko I'a / Fishponds (Guided Reading Levels E–J; Target Grade Level: 1)
Find out about the different types of traditional loko i'a, the growth cycles of their inhabitants, and the work of their caretakers.
Hawaiian Habitats (Guided Reading Levels K–M; Target Grade Level: 2)
Cover a lot of ground learning about Hawaiian habitats and the dependent and interdependent relationships of the organisms that live there.
Hawaiian Ecosystems (Guided Reading Levels N–P; Target Grade Level: 3)
Follow the path of the life-giving water of Kāne and see how water—and the lack of it—affects Hawaiian ecosystems and their inhabitants
Each set of readers is accompanied by a Big Ideas Science Book that offers teachers and parents an opportunity to model reading to your keiki, review with your keiki the main scientific and cultural concepts of the set, consider and discuss essential questions, introduce more complex concepts and vocabulary your keiki will encounter in the leveled readers, and share additional place-based knowledge.
PAL integrates Hawaiian language, culture, and place-based content with literacy and science concepts that meet national standards. Developed in 'ōlelo Hawai'i and translated into English, this exciting series was created through partnerships among a group of Hawai'i educators, literacy specialists, and Hawaiian-language resource developers in consultation with scientists and cultural practitioners.
For more information and additional resources, visit www.kamehamehapublishing.org/PAL-eng.
What's Inside?
16 leveled readers
4 Big Ideas Science Books
Also includes stickers and bookmarks!
Copublished with Hale Kuamo'o.
*Hawaiian edition also available.